Empieza ya la carrera de verdad con los premios de los críticos y con las nominaciones para los Globos de Oro a la vuelta de la esquina. Los primeros en abrir fuego, como siempre, los del National Board of Review que, aunque suelen ser demasiado tempraneros, ya comienzan a apuntar tendencias.

La ganadora del premio a mejor película ha sido la monumental adaptación de la novela de Cormac McCarthy No country for old men, que han realizado los hermanos Coen. En un año que será de grandes adaptaciones, los Coen dan un golpe en la mesa llevándose también el premio a mejor guión adaptado y a mejor reparto, lo que les pone directamente en el disparadero de los Oscars. La otra 'front-runner' de la que se habla para la categoría principal, el delirante musical Sweeney Todd de Tim Burton, se ha tenido que conformar con el premio a mejor dirección y con entrar en el top 10 de finalistas.



Con fuerza llegan también las más marginales Juno y Gone baby gone. La comedia de Jason Reitman se ha hecho con el premio a guión original 'ex aequo' con Lars and the real girl mientras que Ellen Page ha conseguido el de actriz revelación (qué oportunos son estos premios a los debutantes para repartir la cosa). Por su lado, al drama criminal de Ben Affleck se le ha concedido el premio al mejor debut en la dirección y el de reparto femenino para la enorme Amy Ryan. Con esto y con el premio de actuación principal que se ha llevado otra de las favoritas, Julie Christie (atención, con un personaje sacado de los relatos de Alice Munro), Cate Blanchett se queda sin ninguno de los premios a los que podría aspirar. Veremos cómo evoluciona el resto, pero es posible que la frivolidad histórica de la segunda parte de Elizabeth le acabe pesando, igual que lo extremo del proyecto de Todd Haynes y sus 'Dylans' en I'm not there.



En la zona masculina el premio de mejor actor, ante la ausencia todavía de favoritos claros, se lo ha llevado, pues eso, el guapo: George Clooney por dar vida al 'larger than life' Michael Clayton. En las categorías de reparto y de revelación pocas sorpresas. El primero ha sido para el pequeño de los Affleck por interpretar al cobarde Robert Ford, mientras que el segundo se lo ha llevado Emile Hirsch por el que es uno de los proyectos más extraños de este año, el Into the wild de Sean Penn.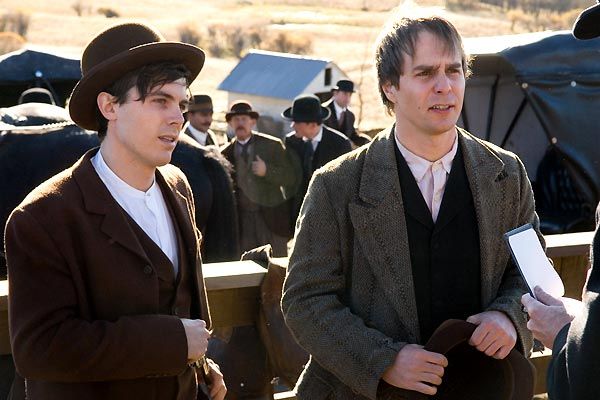 En cuanto a las categoría de películas poco que comentar ya que a la NBR se le ve el plumero y apuesta por lo más tradicional del panorama, Ratatouille en animación y La escafandra y la mariposa en película extranjera, aunque ya sabemos que no estará en la categoría para los Oscars (es Persepolis la candidata francesa que, extrañamente, no ha hecho ni top 5). Cuando hablemos de las 'shortlists' que ya hay para los Oscars comentaremos más en profundidad el tema documental. Ahora, la lista completa de premios:


PREMIOS NATIONAL BOARD OF REVIEW 2007

Mejor Película
"No Country For Old Men"

Y, en orden alfabético:

"El Asesinato de Jesse James por el Cobarde Robert Ford"
"The Bucket List"
"Cometas en el Cielo"
"Expiación"
"Into The Wild"
"Juno"
"Lars And The Real Girl"
"Michael Clayton"
"Sweeney Todd"
"El Ultimátum de Bourne"

Mejor Director
Tim Burton, por "Sweeney Todd"

Mejor Actor
George Clooney, por "Michael Clayton"

Mejor Actriz
Julie Christie, por "Away From Her"

Mejor Actor de Reparto
Casey Affleck, por "El Asesinato de Jesse James por el Cobarde Robert Ford"

Mejor Actriz de Reparto
Amy Ryan, por "Gone Baby Gone"

Mejor Actuación de Conjunto
"No Country For Old Men"

Mejor Actor Revelación
Emile Hirsch, por "Into The Wild"

Mejor Actriz Revelación
Ellen Page, por "Juno"

Mejor Director Novel
Ben Affleck, por "Gone Baby Gone"

Mejor Guión Original
Diablo Cody, por "Juno", y Nancy Oliver, por "Lars And The Real Girl" (ex-aequo)

Mejor Guión Adaptado
Joel & Ethan Coen, por "No Country For Old Men"

Mejor Película en Lengua No Inglesa
"La Escafandra y la Mariposa"

Y, en orden alfabético:

"4 Meses, 3 Semanas y 2 Días"
"Los Falsificadores"
"Lust, Caution"
"La Vie en Rose"
"La Visita de la Banda"

Mejor Documental
"Body of War"

Y, en orden alfabético:

"Darfur Now"
"In the Shadow of the Moon"
"Nanking"
"Taxi Hacia el Lado Oscuro"
"Toots"

Mejor Película de Animación
"Ratatouille"

Mejores películas independientes
(En orden alfabético)

"Away From Her"
"Great World of Sound"
"Honeydripper"
"En el Valle de Elah"
"Un Corazón Invencible"
"El Buen Nombre"
"Once"
"The Savages"
"Starting Out In The Evening"
"Waitress"

Premio a la Carrera
Michael Douglas

Premio a la Carrera como Director de Fotografía
Roger Deakins

Premio Bvlgari a la Libertad de Expresión
"Persepolis" y "The Great Debaters"